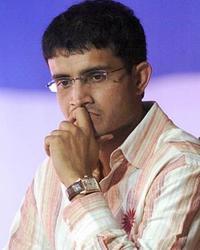 India's most successful skipper ever, Sourav Ganguly, probably suffered the worst setback of his otherwise glorious career, with no
franchise
bidding for him in the IPL-4 players' auction, bringing his association with the multi-million-dollar league to a sad end. The former Kolkata Knight Riders' skipper, who upped his reserve price from $200,000 to $400,000 days ahead of the auction and it is believed that it proved to be a costly error by India's most successful skipper. Sri Lankan batsman Sanath Jayasuriya also failed to find a buyer on Sunday joining a high-profile list of unsold players which included among others West Indies batting great Brian Lara, Chris Gayle, Mark Boucher and Graeme Swann. Mohammed Kaif, however, got lucky as he was finally snapped up by Royal Challengers
Bangalore
.
After being ignored for the second time in the auction, he was put under the hammer, courtesy a special request by Pune team, for his base price of $100,00. But surprisingly Mumbai Indians and Royal Challengers jumped in the fray and eventually Challengers grabbed him for $130,000.
Everyone was looking forward to Sahara Pune Warriors – a franchise with whom Ganguly has been linked for quite some time. However with three editions already over, even the new teams know how to get their economics right as most of them found it fit to spend the remaining
money
on uncapped domestic players who would form the core of the team.
Anil Kumble said that he felt sorry for a few seniors like Sourav Ganguly and Brian Lara who remained unsold.