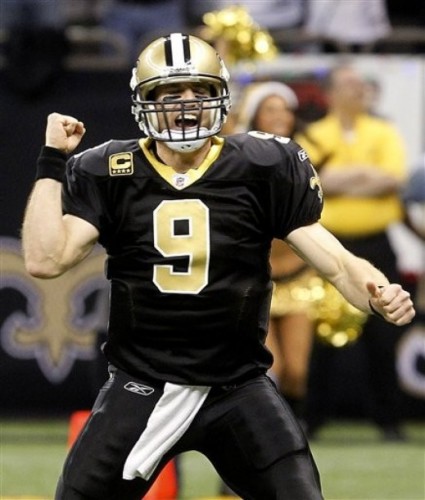 Last night on Monday Night Footballagainst the Atlanta Falcons, New Orleans quarterback Drew Brees brokeDan Marino's NFL passing record of 5,084 yards in a single season — a record which had stood for twenty-seven years. After a nine-yard touchdown pass to Darren Sproles in the fourth quarter, Brees hit 5,087 yards on the season.
Brees and Sproles were teammates with the Chargers during the 2005 season, and Sproles was part of a three-headed backfield that included LaDainian Tomlinson, Sproles and Michael Turner. All three backs have since found homes in new cities.
Contributing to the Jets, Saints and Falcons respectively, Tomlinson, Sproles and Turner have rushed for a combined for 1,955 yards and 12 touchdowns this season — totaling 3,230 yards from scrimmage and scoring 20 total touchdowns.
As a team, the Chargers have rushed for 1,713 yards this season and 15 touchdowns. Backs Ryan Matthews, Mike Tolbert and Jacob Hester have taken the places of Tomlinson, Turner and Sproles, but their productivity has not matched that of their predecessors.
Meanwhile, Brees' successor in San Diego — Phillip Rivers — is having a poor season, throwing a career-high nineteen interceptions. Rivers' team has been eliminated from the playoffs. Brees' Saints appear to be one of the only teams capable of taking on the high-powered Packers in the NFC Playoffs, and could be bound for their second Super Bowl appearance in three seasons.