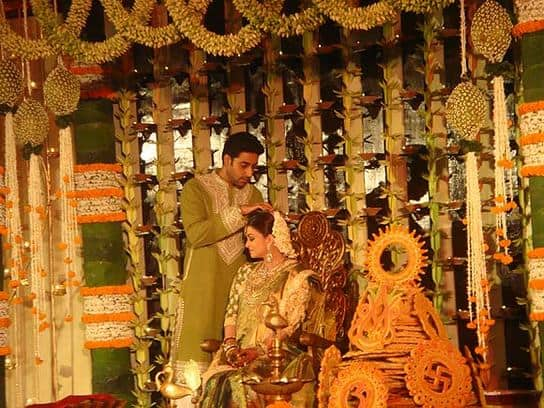 We know it's a bit too late for baby shower pictures of Aishwarya Rai Bachchan, what with Beti B coming in to this world on November 16 and conquering it already. But since Aishwarya's baby shower was so exclusive an affair that only the pictures of lady guests from the ceremony were available, we kinda jumped when we saw these rather endearing images on a website. We couldn't help but share these pics of Aishwarya, Abhishek, Amitabh and Jaya Bachchan with our readers. Feels good to see the very much preggers Ash glowing, as she is being pampered by her hubby dearest, parents and in-laws. And what we love is the decor for the occasion, the dress code and the colours – completely ethnic and classy.
What do you think?
Aishwarya Rai Baby Shower Photos
Aishwarya Rai Baby Shower event was attented by Karan Johar, Asha Parekh, Twinkle Khanna and other leading Bollywood actress. The only male apart from Abhisekh was Karan Johar.
Aishwarya Rai is having God Bharai or the baby shower celebrated yesterday.