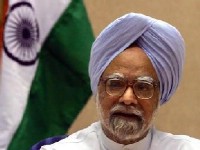 Today 3 Bharatiya Janata Party (BJP) members publicly displayed 1 crore rupees in Parliament. They said this money was allegedly offered to them to vote in favour of the confidence

motion

. This is indeed a black day for

Indian

Parliament and democracy. Ashok Agral, who is a BJP MP from Morena, claimed that it was advance payment by Samajwadi Party's Amar Singh for abstaining from voting in confidence motion by UPA

government

. He was supported by two other BJP MPs. What I think in this scenario that Prime Minister Manmohan Singh should immediately resign on moral grounds or President Mrs Patil should dissolve the current Indian government as it is a big setback for Indian democracy.
However according to latest updates the government has won the confidence motion by 19 votes, with 275 votes in favour and 256 votes against.