Ford has introduced the Fiesta Classic in order to address a larger customer base and in doing so the company has also lowered the pricing on this stellar sedan!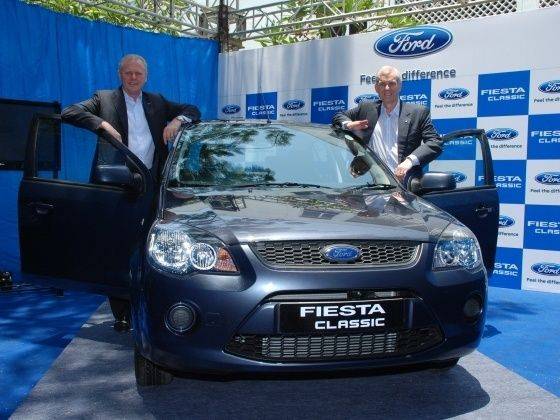 The
Ford
Fiesta has been a rather successful model in Ford India's automotive arsenal and the car has sold over 100,000 units since it was first introduced. Now, the company is gearing up to usher in the all-new Fiesta, however the existing model will continue to be sold alongside the new one. In doing so, Ford has taken the bold step to reinvent the existing Fiesta brand as the 'Fiesta Classic'.
The car is said to offer superior drivability, best in class fuel efficiency and an all new interior package. The Fiesta Classic retains its core characteristics of being a well balanced driver's car that is a joy to drive thanks to its responsive steering and amazing suspension setup. Powering the car are the tried and proven 1.6 Duratec and 1.4 Duratorq powertrains which not only offer a fair amount of spirited performance but also happen to offer a decent fuel consumption figure as well.
In terms of visual changes between the existing Fiesta and the Fiesta Classic, the exteriors have been largely untouched, however the interior has received a new refreshed look with the addition of an Ebony and Jasper Blue coloured instrument panel, a new centre and floor console finished in graphic metallic, new seats and enhanced dual-tone door trims. The spruced up interiors are definitely a step in giving the customer maximum bang for their buck, and the drop in overall prices is literally the icing on the cake.
The Fiesta Classic is an attractive offering for those looking for an entry level sedan for the pricing for petrol variants start at Rs. 549,030 (ex-showroom, Delhi) and diesel variants at Rs. 648,000 (ex-showroom, Delhi). In this reinvented and more affordable avatar, the Fiesta Classic now caters to a broader customer base and Ford India is bullish on furthering the success story that the Fiesta has written in India so far. In addition, all the product variants will display the 'Classic' moniker and will be available in a striking new body colour – Colorado Red. It is offered in both petrol and diesel engine options across three variants – LXI, CLXI and SXI to suit growing customer requirements.