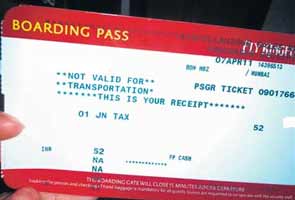 Mumbai:
Flying high is now heavier on the pocket.
The government has increased the tax levied on flyers for domestic air travel. Post April 1, flyers are being asked to cough up an additional
R

s.
52 as service tax at all domestic airports.
Baffled flyers were caught unawares, some having to purchase edibles from the airport kiosks simply to procure change with which to pay the amount.
Sanjay Narang, a Chandigarh-bound airline passenger, said, "When first asked to shell out the extra money, I was rather baffled. I had no knowledge of this tax. The airline representative at the boarding counter informed me that the government has increased the mandatory service tax on flyers with effect from April 1. I was not carrying the change with me at the time. Left with no choice, I bought a soft drink in order to get the exact change, so I could pay the amount."
Narang continued, "When I boarded the flight, I asked the cabin crew what the tax was being charged for. They had no clue whatsoever. Even the ground staff was clueless. Finally I was asked to check with the airline counter at Chandigarh. I learnt from them that the amount is being collected under the title of JN Tax. I still don't know what that means ," said Narang. JN tax is a form of service tax.
Anamika Singh, a Delhi-bound passenger, also faced similar problems. "The airline should have informed the passengers in advance that they would have to pay extra money. Even ATM machines do not give one or two rupee change nowadays. Why didn't the airline charge the amount when I made the bookings?" she asked.
Speaking to MiD DAY, an Air India spokesperson said, "It is the increased service tax introduced by the union government in the new budget. The total amount was increased from one hundred and three rupees to one hundred and fifty five rupees. All those who booked their tickets before April 1 are having to pay the additional amount in cash."
A Kingfisher airline spokesperson also confirmed that the extra amount is the increased sum of service tax.
Devang Sanghvi, an employee of Venus holidays, said, "With this implementation, the government has brought the airlines under the purview of service tax. The airlines will have to represent these changes in the fare breakup. This revised breakup will only appear on the tickets booked after April 1."
The annual union budget, presented by Finance Minister Pranab Mukherjee earlier this year, had announced a hike on service tax for domestic airfare.