Audi India has brought in the topless R8 Spyder to India and is confident it will attract buyers of great taste.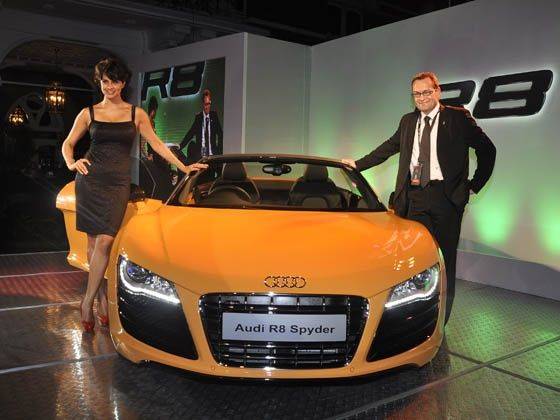 The Audi R8 Spyder flanked by Gul Panag and Michael Perschke, Head - Audi India
Looks like the Audi R8 family is growing rapidly in India – after the launch of the R8 V10 in January this year, the German sportscar has dropped it's hard top and been launched as the R8 Spyder! With such mean styling that is now accentuated by the missing roof, the R8 Spyder isn't just about looking the part. Under that sleek bonnet is a massive 5.2 litre V10 gasoline engine putting out over 500 PS of power and 530 Nm of torque! Making things even more interesting is the lightness of it all with Audi's Space Frame technology that limits the R8 Spyder's weight to just 1720 kg. The sound of the V10 itself should be all the equipment you need, but Audi has plonked in loads of gadgets to spoil customers silly. Quattro permanent all-wheel drive, LED lights, seat belt microphone, Bang & Olufsen sound system, heated seats, etc. are a sure-fire way of indulging yourself. Coming back to the business side of things, the 5.2 litre FSI engine is mated with an optional 6-speed sequential transmission with an automatic and manual mode that can be operated via paddles on the steering wheel. It even gets launch control, which is a good thing considering this car can do 0-100 km/h in 4.1 seconds and go on to hit a top speed of over 300 km/h!
The element that makes this R8 the Spyder, is very well engineered as well and seamlessly blends with the car's lines. Weighing only 42 kg, the soft top can be deployed in just 19 seconds. With a price tag of a whopping Rs 1.47 crore, it may seem on the high side but the blokes at Audi reckon there is a huge market for the R8 Spyder. "Immense power, eager response, powerful acceleration, extraordinarily free-revving and a rousing sound - the Audi R8 Spyder, with its skin-tingling sports car experience, epitomizes the Audi customer today. The Audi customer desires a brand like ours - one which reflects his personality, which is progressive, aggressive and is seen as defined and distinct. We believe that the Audi R8 Spyder will add to the spurring demand for excellence in auto performance and highlight our emphasis on technical perfection. I am confident that this high performance sports car will allow us to further build upon our leadership position in the super sports car segment in India and maintain the iconic position of the R8 in India. Also, with this second addition to the R8 family in 2011, after the launch of R8 V10 in January, Audi now offers the whole range of R8 options in India." said Michael Perschke, Head, Audi India.