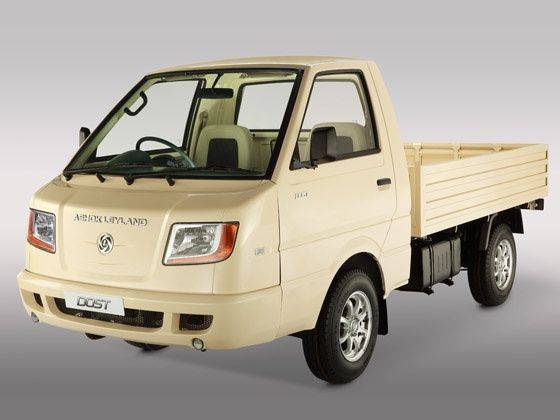 The Ashok Leyland DOST to be market-launched by second quarter of FY 2011-12
Ashok Leyland DOST
The Commercial Vehicles manufacturing arm of the Hinduja Group, Ashok Leyland and Japanese car maker
Nissan
have been working in close collaboration since 2007, primarily for the production of Light Commercial Vehicles in India. While announcements of a Joint Venture (JV) between the two were made a while ago, Ashok Leyland was struggling with acquiring land for setting up a Greenfield facility in Chennai to pursue its proposed LCV project with Nissan. However, keeping the economic downturn in mind, the two companies decided to put the project on hold and carry forward their operations at Ashok's Leyland's Hosur manufacturing plant in Tamil Nadu.

Recognizing the perceptible upward shift in terms of features, performance and payload of the Small Commercial Vehicle Segment in India, Ashok Leyland and Nissan recently unveiled their first Light Commercial Vehicle (LCV) for India – the Ashok Leyland DOST.


Powered by a specially-developed, 55 hp high-torque, 3-cylinder, turbo-charged Common Rail Diesel engine, the new DOST has a payload capacity of 1.25 Tonnes. Available in 3 versions: a base version with manual steering, a mid version with power steering and a higher version, which will have dual tone interiors, power steering and AC, the new lightweight smart looking LCV from Ashok Leyland will be available in both BSIII and BSIV versions.
Dual tone interiors, Power steering and AC for the top end model
Playing a major role in the success of this LCV Joint Venture between Nissan and Ashok Leyland, Dr. V. Sumantran, Executive Vice Chairman, Hinduja Automotive Ltd. and Chairman, Nissan Ashok Leyland Powertrain Ltd, said "The Indian market is rapidly evolving and customer expectations are growing. We believe that the LCV segment is ready for a substantial upgradation of products that yet offer low cost of ownership. The Ashok Leyland DOST, with its carefully calibrated design and features, attempts to offer a new level of experience to the Indian customer."


Optimistic about the acceptance of the DOST once launched in India, Andy Palmer, Senior Vice-President, Nissan Motor Company and Chairman, Ashok Leyland Nissan Vehicles Ltd., said, "The product blends the best in terms of Japanese engineering from Nissan, with local relevance that Ashok Leyland brings to the table. It represents a very attractive value proposition to the small and medium businesses that it is targeted at and we are confident that it will find wide acceptance when launched."


The new Ashok Leyland DOST as indicated earlier will be launched in the second quarter of FY 2011-2012. It will continue to be manufactured at Ashok Leyland's Hosur manufacturing plant, and more importantly will be available through a newly developed LCV exclusive network to give customers a more personalized experience.