Good morning, this is David Batty with live coverage of the aftermath of the devastating 8.9 magnitude earthquake that struck Japan on Friday, causing a tsunami. A huge rescue mission is underway on Saturday amid growing fears of radiation leaks at nuclear power stations damaged by the disaster.
Here's a round-up of events so far in Japan on Saturday.
•There are growing fears about damage to two nuclear power stations following Friday's 8.9 magnitute earthquake. There has been an explosion at a building at one of the plants, Fukushima No 1 in Futuba, 150 miles (240km) north of Tokyo. Japanese authorities have extended the evacuation area at the Fukushima No 2 plant to 10km, the same distance as for Fukushima No 1 plant.
•The death toll from the disaster is expected to exceed 1,300, with most deaths due to drowning. The official death toll currently stands at 413, with 784 people missing and 1,128 injured.
•The tsunami swept about six miles (10km) inland in some areas.Police said between 200 and 300 bodies were found along the coast in Sendai, the biggest city in the area near the quake's epicentre.
•Police estimate that more than 215,000 people are taking refuge in emergency shelters in the east and north of the country. Many survivors have been trapped overnight on rooftops, surrounded by a sea of mud and water. Around 50,000 rescuers have deployed to the region.
•Tsunami warnings for most of Japan have been lowered, although there is still a risk of large waves along the north-eastern coast.
•The tsunami rolled across the Pacific at jet speed but had weakened before it hit Hawaii and the West Coast of the US. Initial reports suggest limited tsunami damage to Pacific island nations.
For more details of events in Japan overnight and this morning, please check our
earlier live blog
.
Here's a recap of what we know about the two damaged nuclear plants.
•Japan's prime minister Naoto Kan has declared a state of emergency at two nuclear power plants as engineers try to establish whether a reactor at one of the stations has gone into meltdown.
• Diesel generators that normally would have worked as back-ups to keep cooling systems running had been disabled by tsunami flooding.
• Power supply systems to provide emergency electricity for the plants were being put in place, the World Nuclear Association said.
• Both plants are light water reactors operated by the Tokyo Electric Power company (or Tepco).
Fukushima Daiichi No 1 plant
– Japanese media said officials had detected caesium, one of the elements released when overheating causes core damage, around a reactor at Fukushima No 1 plant in Futuba, 150 miles (240km) north of Tokyo. The plant has six reactors, three of which have been shut down for maintenance.
– The Tokyo Electric Power Company (Tepco) said it did not believe a meltdown was under way, but Ryohei Shiomi, an official with Japan's nuclear safety commission, said that it was possible.
Fukushima Daini No 2 plant
– has four reactors, and in units 1, 2 and 4 of them the operator has said it has lost cooling ability.
– Tepco says pressure is stable inside the reactors of the Daini plant but rising in the containment vessels.
• Both plants have been declared to be in a state of emergency by the government, and an evacuation of the 80,000 residents who live within the 10km zone around both plants is underway.
Here's more details of the situation at Fukushima Daiichi No 1 plant from AP.
A the news agency reports that it is not clear if a reactor meltdown would cause a serious radiation risk, and if it did how far the risk would extend:
Yaroslov Shtrombakh, a Russian nuclear expert, said a Chernobyl-style meltdown was unlikely.
"It's not a fast reaction like at Chernobyl," he said. "I think that everything will be contained within the grounds, and there will be no big catastrophe."
In 1986, the Chernobyl nuclear reactor exploded and caught fire, sending a cloud of radiation over much of Europe.
Pressure has been building up in Fukushima reactor it's now twice the normal level and Japan's Nuclear and Industrial Safety Agency told reporters Saturday that the plant was venting "radioactive vapors." Officials said they were measuring radiation levels in the area. Wind in the region is weak and headed northeast, out to sea, according to the Meteorological Agency.
The reactor in trouble has already leaked some radiation: Operators have detected eight times the normal radiation levels outside the facility and 1,000 times normal inside Unit 1's control room.
Ryohei Shiomi, a nuclear official, said that each hour the plant was releasing the amount of radiation a person normal absorbs in a year.
He has said that even if there were a meltdown, it wouldn't affect people outside a six-mile (10-kilometer) radius an assertion that might need revising if the situation deteriorates. Most of the 51,000 residents living within the danger area had been evacuated, he said.
The Guardian's Tania Branigan says that Japanese authorities are extending the evacuation zone around the two Fukushima nuclear plants from 10km to 20km.
According to Oxfam, the damage to several Pacific countries in the path of the tsunami has been limited and alerts are gradually being lifted:
Overnight reports had suggested that the incoming tsunami wave could be higher than many low-lying Pacific islands, with the potential to wash right over them. With thousands of islands to account for, it will be some time before the complete picture is available. However, early information suggests these islands so far appear to have avoided the worst-case scenario.
A nuclear expert says the a blast at Fukushima plant No 1 was caused by a hydrogen explosion.
Ian Hore-Lacy, of nuclear industry body the World Nuclear Association, also said the blast may not necessarily have caused a radiation leak.
He told Reuters:
"It is obviously an hydrogen explosion ... due to hydrogen igniting. If the hydrogen has ignited, then it is gone, it doesn't pose any further threat. As far as we know there is no particular danger from radiation leaks. There may be, but we don't know that. There is no reason to suppose that there must be because of that."
British foreign secretary William Hague says Japan has asked for the UK's help in the aftermath of the quake.
He told the BBC:
"In these situations, Britain can offer help in the form of search and rescue teams or victim identification expertise. They have now asked for some help, we're nailing down the details of that and further announcement about that will be made later today."
Hague had this to say about possible British casualties:
"We have no confirmed British casualties as yet, but of course the picture will become clearer as recovery teams do their work, as communications are re-established in the affected area."
Japan nuclear safety agency says that serious damage to the reactor container at Fukushima No 1 is unlikely, according to Kyodo News.
The four people injured in the nuclear plant explosion are conscious and their injuries are not life-threatening, it also reports.
Tania Branigan says that contrary to earlier reports the evacuation zone around Fukushima No 2 is only 10km (6 miles), not 20km. The evacuation zone around Fukushima No 1 plant is 20km, however.
The Guardian's energy editor, Terry Macalister, writes that"there is no immediate suggestion that Fukushima could turn into a Chernobyl-sized nuclear crisis."
He adds:
"Some say its impossible anyway given the design of the reactor. But I was down at Chernobyl two weeks ago to survey the clean-up there and it was certainly a sobering insight into how devastating an atomic accident can be.

"The Chernobyl plant is still highly radioactive - 25 years after that accident - and far from fully dismantled or decommissioned. The nearby town of Pripyat lies completely empty. 50,000 people were evacuated from there and told they would be back the following weekend. They never returned."
Here's more details from Oxfam on the impact of the tsunami on Pacific island nations.
Papua New Guinea: The Boram hospital in Wewak suffered serious damage when it was flooded by waves. Around 50 of the 100 patients were evacuated to the police station compound where most are lying outside. Heavy rains are now reported in the area, causing concerns about sanitation.
The Solomon Islands: The worst damage was in the northern Isabel province. "The water is reported to have reached 50 metres inland and in one village, a house was destroyed and several canoes washed into the sea," said Oxfam representative Joe Weber.
Tonga: Oxfam programme manager Dolores Devesi, said: "There were no waves here, just big tides. People spent the night at consolidation points inland from the coast, but now there are lots of cars returning home."
Samoa: "There were warnings in place all night but the only wave activity looked smaller than Hawaii, which we saw on TV," said Women in Business Development Incorporated, an Oxfam partner agency.
AP has more details of the scene of devastation in Sendai, the biggest city in the area near the quake's epicentre.
Miles from the ocean's edge, weary, mud-spattered survivors wandered streets strewn with fallen trees, crumpled cars, even small airplanes. Relics of lives now destroyed were everywhere half a piano, a textbook, a soiled red sleeping bag.
Rescue workers plied boats through murky waters around flooded structures, nosing their way through a sea of detritus, while smoke from at least one large fire billowed in the distance. Power and phone reception was cut, while hundreds of people lined up outside the few still-operating supermarkets for basic commodities. The gas stations on streets not covered with water were swamped with people waiting to fill their cars.
A convenience store three miles (5km) from the shore was open for business Saturday, though there was no power and the floors were covered with a thick layer of grime.
"The flood came in from behind the store and swept around both sides," said shop owner Wakio Fushima. "Cars were flowing right by."
The city's Wakabayashi district, which runs directly up to the sea, remained a swampy wasteland with murky, waist-high water. Most houses were completely flattened.
Grief-stricken residents searched for their former homes, but many couldn't even tell where they had stood in the dark water. Occasionally there was something recognizable a chair, a tire or a beer cooler.
Japan's chief cabinet secretary, Yukio Edano, has told a press conference that "it has yet to be confirmed whether [the explosion at Fukushima No 1 plant] was that of a nuclear reactor itself".
He added:

"At present, after the talks among political party heads held a while ago, government officials including the prime minister and the minister of economy, trade, and industry, along with experts, are making all-out efforts to get hold of and analyse the situation, and to take measures."
Japan's prime minister Naoto Kan has described the quake and its aftermath as "an unprecedented disaster that we are suffering". He urged people to be responsible and listen to media reports for further advice and information.
Kan added that he had spoken to several world leaders, including President Obama, and around 60 countries had expressed their sympathies to the Japanese people.
More from my colleague Terry Macalister on the situation at Fukushima No 1:
"Getting information out of the nuclear industry is never easy (a legacy perhaps of its Cold War origins) and the Japanese political system is also notorious for keeping a tight lid on unwelcome news. This all means it will be hard to know what is exactly happening at any one time at Fukushima.

"But I have been talking to a top British nuclear engineer who visited that plant in Japan and he says it was built in the 1970s and is not as earthquake-proof as later models. He also said there had long been speculation about how strong was the containment dome over the top of the reactor - the final barrier for any radioactive emissions to be released into the environment.

"It is also not the first time there have been problems at Fukushima. There have been reports of a loss-of-power incident in June last year. I have also seen suggestions that one reactor at the complex began using MOX (mixed plutonium-uranium) fuel starting in September."
A British nuclear expert, Professor Paddy Regan, offers this analysis of what happened at Fukushima.
Regan, professor of nuclear physics at the University of Surrey, said:
"It looks as if the coolant pumps had initially stopped working. They shut down automatically when the reactor shuts down, but there is a backup system running off a diesel generator - it looks as though that's the bit that failed.

"As a result there is no way of pumping heat out of the reactor, so it has to cool naturally. If the reactor gets too hot, in principle this means the fuel rods can melt - but it looks unlikely this has happened to any great extent in this case.

"To reduce the pressure, you would have to release some steam into the atmosphere from the system. In that steam, there will be small but measurable amounts of radioactive nitrogen - nitrogen 16 (produced when neutrons hit water). This remains radioactive for only about 5 seconds, after which it decays to natural oxygen.

"But if any of the fuel rods have been compromised, there would be evidence of a small amount of other radioisotopes in the atmosphere called fission fragments (radio-caesium and radio-iodine). The amount that you measure would tell you to what degree the fuel rods have been compromised. Scientists in Japan should be able to establish this very quickly using gamma ray spectroscopy as the isotopes have characteristic decay signatures. Current reports seem consistent with a small leak to relieve pressure.

"But we still need to establish the cause and exact location of the explosion, which is a separate issue. So far it looks like it's not the reactor core that's affected which would be good news."
This video taken at Sendai airport on Friday shows the scene of devastation as waves rushed through the car park, carrying along and submerging hundreds of cars.
This footage, which show the panic when the quake struck, has gone viral, with nearly 6.5m views on YouTube.
The BBC's Damian Grammaticas has just arrived in Sendai and describes the scenes of devastation at the harbour as "truly astonishing".
He writes:

"Giant shipping containers have been swept inland and smashed against buildings, all around me are trees and rubble. The streets covered in mud that was swept inland. There are dozens and dozens of cars that were carried along, twisted and turned, and crushed by the wave. The gas and water have been cut off, fires are burning, and locals say hundreds of people died in this area."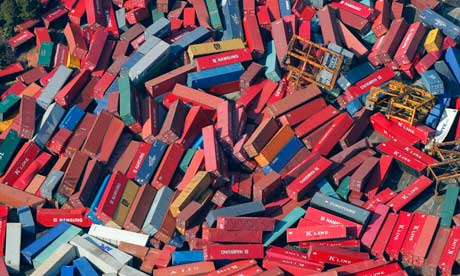 Here's a photo of the giant shipping containers that the BBC's Damian Grammaticas mentions have been swept inland and smashed against buildings in Sendai.
Japanese TV is reporting that about 10,000 people are missing in the town of Minamisanrikucho in Miyagi prefecture.
Japan's chief cabinet secretary Yukio Edano has said that radiation levels at Fukushima No 1 nuclear power plant have dropped slightly since the blast, NHK reports.
The blast destroyed the exterior walls of the building, the plant operator, Tokyo Electric Power Co, has confirmed there is no damage to the steel container housing the reactor, he added.
"We have confirmed that the walls of this building were what exploded, and it was not the reactor's container that exploded," said Edano.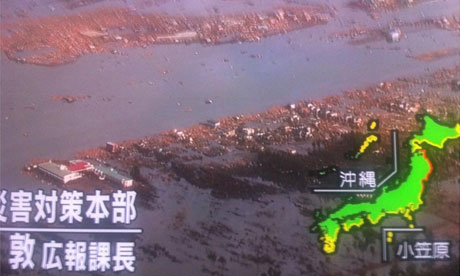 This
Twitpic
shows the extent of the damage the tsunami caused in Sendai with much of the city submerged under flood waters.
Japanese authorities are preparing to distribute iodine to residents in the area of both the Fukushima nuclear plants, according to the International Atomic Energy Agency. Iodine can be used to help protect the body from radioactive exposure.
The official death toll now stands at 574, with 586 people declared missing and 1,105 injured. All those figures are likely to rise dramatically.
There are reports of further aftershocks in Japan. A magnitude 6 earthquake hit Fukushima at 22.15 local time (13.15GMT) on Saturday, NHK reports.
The Guardian's Jon Watts who is heading to Sendai from Tokyo texts:
"Just felt our first aftershock. NHK were very quick - seemed like we heard their alert before the car started to rock. It was a level 5 quake, not too bad. Commentators warn bigger aftershocks are likely and people living near the coast should be aware that there could be more tsunamis."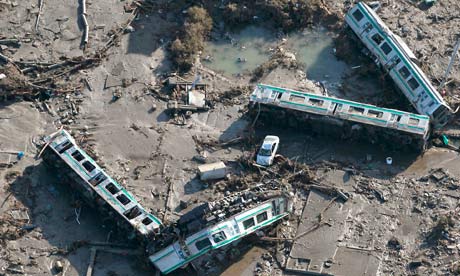 This photo shows train carriages overturned in Shinchi town after the tsunami.
A team of UK search and rescue specialists and medics is flying out to Japan to help in the aftermath of the quake and tsunami, the British government has announced.
The team of 63 UK fire service search and rescue specialists, two rescue dogs and a medical support team were organised by the Department for International Development (DfID).
Andrew Mitchell, international development secretary, said: "The Japanese government has appealed directly to us for help. We will immediately dispatch a team to help Japan search for survivors as quickly as possible. Our highly trained rescue teams will leave the UK this afternoon and travel directly to the disaster zone."
Here's a lunchtime update on events so far on Saturday in Japan in the aftermath of Friday's devastating 8.9 magnitute earthquake and tsunami.
•There has been an explosion at the Fukushima No 1 nuclear power plant in north-eastern Japan, close to the epicentre of the quake. Officials say the blast is not a meltdown but exterior walls of one of the reactor buildings have been destroyed. There are also concerns about Fukushima No 2 plant.
•Tens of thousands of people in the areas surrounding both plants have been urged to evacuate.
•Japanese authorities are preparing to distribute iodine to residents in the evacuation zones to protect them against radiation exposure.
•There are reports of dozens of aftershocks, some as strong as magnitude 6, striking Japan in the wake of Friday's devastating earthquake and tsunami. Japan's state broadcaster has warned people in coastal areas that there could be further tsunamis.
•Around 1,700 people are estimated to have been killed, according to local media reports, but that death toll is expected to rise dramatically. The official death toll now stands at 574, with 586 people declared missing and 1,105 injured.
•Around 10,000 people are missing in the town of Minamisanrikucho in Miyagi prefecture, according to Japanese TV reports.
•More than 215,000 people are in emergency shelters and around 50,000 rescuers have been deployed across the country.
•At least 1.4m homes are without water and around three million are without power