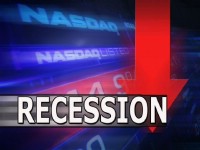 These days everybody is talking about some recession. However most of them don't know much about it. Just they know that the world economy is suffering from recession. Today I will discuss what exactly is economic recession. If you refer any economics book, there you will see that the word 'recession' means reduction of a country's gross domestic product (GDP) for at least two quarters. Let's see the official meaning of recession from the United States-based National Bureau of Economic Research (NBER). It defines economic recession as
"a significant decline in the economic activity spread across the country, lasting more than a few months, normally visible in real GDP growth, real personal income,

employment

(non-farm payrolls), industrial production, and wholesale-retail sales."
There is one more term called depression which is more severe than a recession. Depression is the extreme case of recession, a depression is normally characterized by abnormal increases in unemployment, restriction of credit, price deflation or hyperinflation, shrinking output and investment, numerous
bankruptcies
, reduced amounts of
trade
and commerce, as well as highly volatile relative currency value fluctuations, mostly devaluations. The most well-known depression is the Great Depression of 1929 that affected most of the economies in the world for around ten years. The depression began during the Wall Street Crash of 1929.
But let's forget the depression, focus on recession, better say the latest recession which has created troubles in our lives. The most important reasons for economic recession of 2008-2009 are high oil prices, high food prices, and a substantial credit crisis leading to the bankruptcy of large and well established investment banks like lehman brothers as well as commercial banks in many nations around the world. These fluctuations in world economy has caused increased unemployment, high inflation etc. The International Labor
Organization
(ILO) has predicted that at least 20 million jobs will have been lost by the end of 2009 due to the crisis – mostly in "construction,
real estate
, financial services and the auto sector" – bringing world unemployment above 200 million.
So I think you will be interested to know what has caused this major economic upheaval in the world? What is main reason behind falling share markets across the globe and bankruptcy of major banks? Who is responsible for this? Let's see.