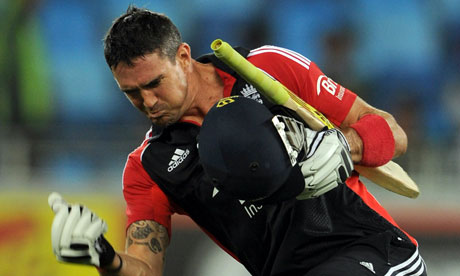 The England and Wales Cricket Board revealed the surprise news that Pietersen will no longer be considered for any form of one-day cricket in an unusually frank statement which revealed that he had wanted to continue in Twenty20 only but that they had refused to allow him to do so. Hugh Morris, the managing director of cricket, expressed his disappointment at the timing of the decision.
That conflict comes a week after the 31-year-old was fined an undisclosed sum for breaching the code of conduct for England contracted players by criticising the Sky commentator, Nick Knight, on Twitter. Pietersen will now be given a downgraded contract for Test cricket only from September and seems certain to spend more time in the Indian Premier League next year.
"After a great deal of thought and deliberation, I am announcing my retirement from international one-day cricket," Pietersen said. "With the intensity of the international schedule and the increasing demands on my body, approaching 32, I think it is the right time to step aside and let the next generation of players come through to gain experience for the ICC World Cup in 2015.
"I am immensely proud of my achievements in the one-day game but still wish to be considered for selection for England in Test cricket. For the record, were the selection criteria not in place, I would have readily played for England in the upcoming World Twenty20."
That was followed by Morris's equally blunt response: "The ECB is disappointed by the timing of Kevin's decision less than four months before we defend our ICC World Twenty20 title. Kevin is a world-class player and I would like to take this opportunity to thank him for his efforts and we look forward to his continued contributions to the Test side.
"As the programming and planning for ODI and T20 format cricket are very closely linked we have a selection policy that means that any player making himself unavailable for either of the one-day formats rules himself out of consideration for both formats. The selectors will now replace Kevin in both the ODI and the T20 squads."
Pietersen has played 127 ODIs and 36 international T20s for England, making his debut in 2004 against Zimbabwe in Harare. He has scored 4,184 runs at an average of 42 in one-day internationals and averages 38 in T20 cricket.