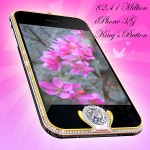 Don't you think it is really ridiculous product especially in this period of economic recession? Austrian jeweler Peter Aloisson has designed the world's most expensive phone by
decorating
the iPhone 3G King's button with gold and diamonds. The iPhone 3G's 'home' or main operating button is set inside a high quality 6.6 carat solitaire diamond. The body of the iPhone is made of 18 carat
white gold
, rose gold and
yellow gold
. The white gold line has approximately 138 finely-shaped diamonds on it. The price of this cell phone is around €1.79 million ($2.42 million or Rs12 crore).
This is not the
first time
that Peter Aloisson has integrated jewels in a mobile phone. He is known to create such pieces from time to time. He is one of the top designers who can blur the line between jewels and the best of the gadgets around. But in the period of economic recession, 2.42 million $ for a mobile phone is very very big
investment
. It is doubtful as who can afford to buy this fanciful, but enormously expensive toy.
Other specifications of the phone
Number of diamonds: approx. 139

Frame / Diamond weight: approx. 5.50

Diamond quality: small diamonds –

best quality

with color F

"Home button" / Diamond weight: single diamond with 6.6 carats, rare beauty with history. Specifications on request

Price: EUR 1.790.000,00

Prices are net prices, exclusive of VAT (20%) or any other applicable customs or duty. Cost for transportation and

insurance

is included.